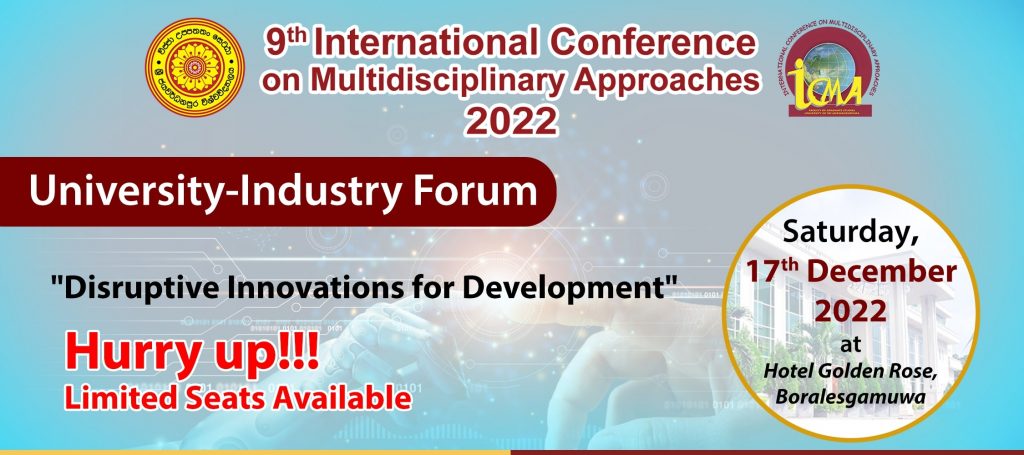 This year organizing committee of iCMA2022 has taken a step to organize an Industry Forum on Disruptive Innovation for Development with the prime objective of brainstorming and to workout possible avenues for collaborative between researchers and corporate sector stakeholders towards the economic development needs at this critical juncture.
Date: Saturday, 17th December 2022
Time: 14:00 hours – 21:00 hours
Venue: Hotel Golden Rose, Boralesgamuwa
Participation fee: LKR 5,000/- per participant including Dinner & Refreshments
We are looking forward participation of all relevant stakeholders who are shouldering the country's economic development representing both public and private sectors to join and contribute leading towards long-lasting collaborations through this unique initiative.
We are excited by the prospect of what we can do together.
Please fill out the following google form to confirm your participation.
---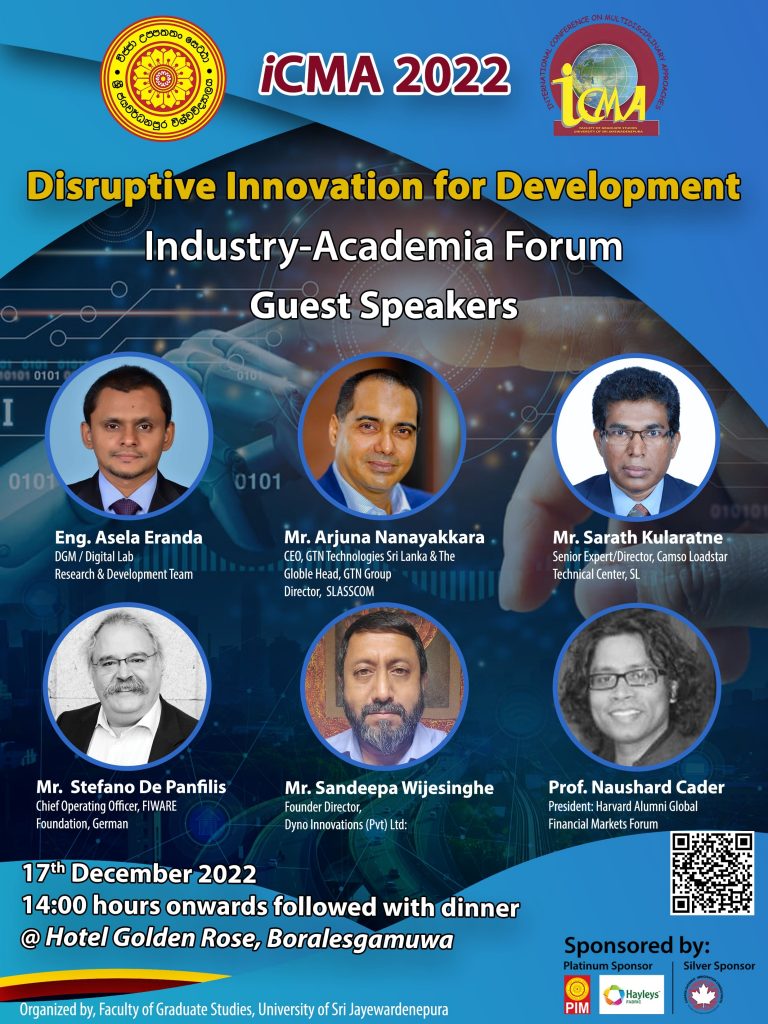 Agenda
2.00 pm
The arrival of the Invitees
2.05 pm
The lighting of the Oil Lamp
2.10 pm
University Anthem
2.15 pm
Video Screening of the Faculty of Graduate Studies
2.20 pm
Welcome Address by Snr. Prof. M. M. Pathmalal,
Conference Chair & Dean, Faculty of Graduate Studies, USJ
2.30 pm
USJ Presentations
3.30 pm
Address By Eng. Asela Eranda
DGM / Digital Lab, Research & Development Team, SLT
4.00 pm
Entertainment
4.05 pm
Guest Speech by Mr. Arjuna Nanayakkara
Director, SLASSCOM
4.35 pm
Entertainment
4.40 pm
Speech by Mr. Sarath Kularatne,
Senior Expert/Director, Camso Loadstar Technical Center, SL
5.10 pm
Entertainment
5.15 pm
Address by Mr. Stefano De Panfilis,
Chief Operating Officer, FIWARE Foundation, German
5.45 pm
Address By Sandeepa Wijesinghe
Founder Director, Dyno Innovations (Pvt) Ltd
6.00 pm
Tea break
6.30 pm
Address by Prof. Naushard Cader,
President: Harvard Alumni Global Financial Markets Forum
7.00 pm
Networking + Dinner
Please contact Mr. Atheeq (+94 77 831 69 49 / +94 71 38 48 681 /atheeq@sjp.ac.lk) for further information.
Location